The Opportunity for Community Banks has Never Been Better
Most households have always been pretty reluctant to move their primary banking relationship. However, the pandemic and rise of new digital banking options have altered switching behavior, creating a big opportunity for those financial institutions that are aggressive and a risk for those that ignore this shift in attitudes.
Marketers who understand the psychology of why people switch banks and create communications to connect with these prospects will undoubtedly attract more new households than they lose. We are entering the age of "Hybrid Banking Consumers".
Community banks that were active in helping business customers and prospects secure PPP loans, have seen a substantial number of these customers switch their banking relationships to their bank.
Retail banking is seeing a similar pattern. Consumers intent to change their primary financial institution or to move their accounts to other providers (traditional or otherwise), appears to be rising sharply.
Before the pandemic, "switching intent" among people who said they were definitely changing primary banks in the next six months had been about 9% of consumer households and 14% of businesses.  These numbers remained steady for several years.
Rivel Incorporated conducted a significant research study of 104,000 consumers from November 2020 through January 2021 and found switching intent went up to 17% among consumers and 31% among businesses, almost double the normal levels.
As always, there is a difference between switching intent and actually switching financial institutions. However, this research uncovered two additional statistics that have prompted Leap Marketing to talk with our clients.
31% of consumers are unhappy with their current banking provider
15% are saying they're actually going to switch in the next six months
Both these numbers are now being tracked at historically high levels and are considered to be statistically significant.
Three Other Research Studies Provide Support
Three additional research studies were completed in early 2021 that substantiate this new switching activity as a result of the pandemic.  Mobiquity, a digital consultancy, surveyed 2,445 U.S. adult consumers in January 2021, FIS conducted a similar type study in February of 2021 and Visa also completed a study on hybrid consumers.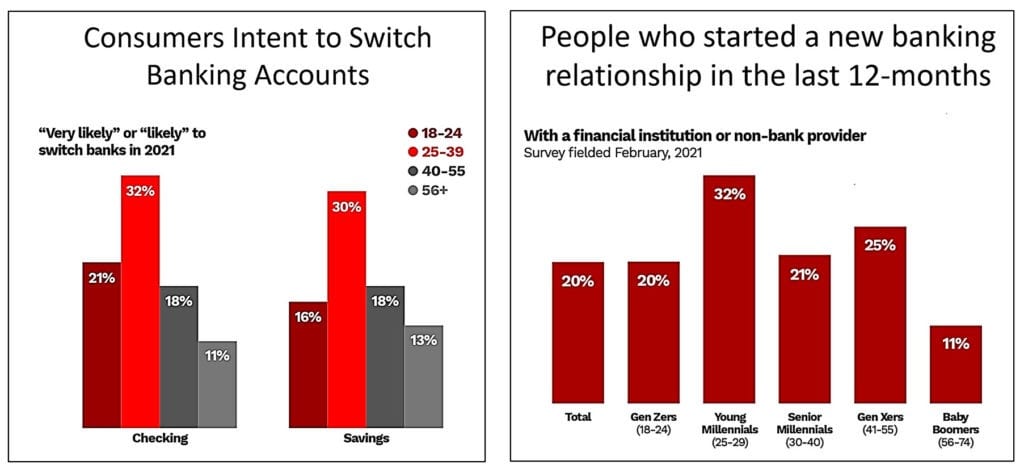 All this evidence doesn't necessarily mean that consumers are moving their primary banking relationship. In a survey conducted by Visa, more than a quarter (27%) of the banking population is made up of "hybrid consumers". Those consumers are people who have both digital-only and traditional accounts.
Consumers in this segment are six times (6x) more likely than average to have three or more bank accounts. However, they are also highly unlikely to give up their traditional accounts. In fact, 77% said they would never do so.
Understanding account switching among hybrid customers may mean a change in the depth of the relationship rather than a complete loss of a customer.  For example, that customer relationship may shrink from six accounts with $50,000 in balances to just two accounts with less than $1,000 balances.
To learn more about this research and strategies to help you take advantage of this trend, give us a call @ 262-436-4080, or fill out the contact form below.  We look forward to hearing from you.