Not long ago, digital solutions were the exception to the rule—a novelty even—to marketers seeking to grow their businesses. Today, it's a necessity few agencies understand better than Leap Marketing. We grew up with digital and we know what it takes to make it work for you.
The Digital Difference
Like traditional marketing, digital tackles the basics. So, what's the difference? Simply put, digital is faster, cheaper and more precise than any other medium available — at least when you work with us. We analyze your goals and then build a digital communications plan that leverages the most effective digital assets. Here's what you can expect from Leap:
Quick Turnaround
We can turn your goals into digital campaigns in days, not weeks. Our expertise and robust network of top-notch strategists, creatives and producers let us hit the ground running.
Results
We'll help you pinpoint your target market with in-the-moment analytics only digital programs can provide. Know instantly what's working, what's not, and where to make adjustments. Timely metrics that will guide the direction of current or future programs.
Affordability
We keep costs down by being lean, efficient and resourceful. We know time is money where digital marketing is concerned. Experience in executing thousands of different strategies and tactics helps guide the development of successful ventures.
Agency Expertise
Leap offers a wide array of digital solutions. Whether you're conducting a stand-alone campaign or integrating into a larger marketing initiative, we're here to help. Take a look at this short video to give you an idea of what Leap Marketing can do for your business.
Spot-On Digital Video
Pre-Roll digital video spots are primary application of this creative, but there is much more. Digital Video is really affordable zip code targeted Spot TV that gets results with measurable analytics.  Bringing your brand to life has never been easier. No waste or overlap, just a 1:1 connection between you and your target market. Take a look at examples of our Spot-On Digital Video.
Learn More
Digital Display Banner Ads
An endless array of options can make the prospect of banner advertising complicated. We make sense of it all to make this pioneering digital medium work for you. Custom built animated gifs or html 5 formats that are not only beautiful, but entice prospects to visit your website or landing page to learn more about you. Check out some examples of successful programs for business to business or business to consumer programs.
Learn More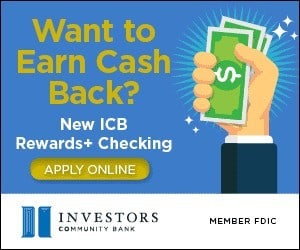 Social Media
Facebook, LinkedIn and Instagram are our primary vehicles. The agency can handle all aspects of your social media program.  Developing a plan than includes complete executional components, including posts, advertising and reporting.
Search Engine Marketing
The agency runs zip code targeted SEM programs for both business to business and consumer marketing. We handle all aspects including developing plans, executing and reporting results. If your website could use search optimization updates, we can accomplish this affordably. Give us a call to learn more.
Learn More
Email Marketing
Leap Marketing has been handling email marketing programs for our community bank clients. This includes creative development, templates, compliant copy and the development of landing pages to support the communications. Analytics are provided for every program giving you the facts you need to maximize your return on investment.
Web and Online Development
Whether you need a landing or splash page, a complete website overhaul, or anything else web related, we can help, drawing on vast experience with industries ranging from fast food to finance. Website maintenance and updates are simple with a one call to Leap Marketing. Give us a call to learn more.