Business Bank Marketing Creates Specialty Accounts
While providing business bank marketing that utilizes specialty products and services for business professionals is not new in the industry, it is for most community banks.
Bank Five Nine  thought the strategy of providing customized banking solutions for professionals was a good way to leverage their small business banking expertise and their position as one of the top community banks in Wisconsin.
In fact, this community bank has been ranked in the top 30 SBA lenders in the United States…..no small accomplishment for a community bank from Oconomowoc, Wisconsin.
Leap Marketing proposed this small business strategic solution as a way to help Bank Five Nine differentiate itself from all the other community bank competition and compete effectively with larger banks in the small business banking arena.
The agency developed a complete marketing and communications plan, positioning, creative and development of a specialized landing page resource for the 9 different professions being featured in the program. Each profession is offered specialized products and services that can be customized using cash management tools and other services that their profession might require.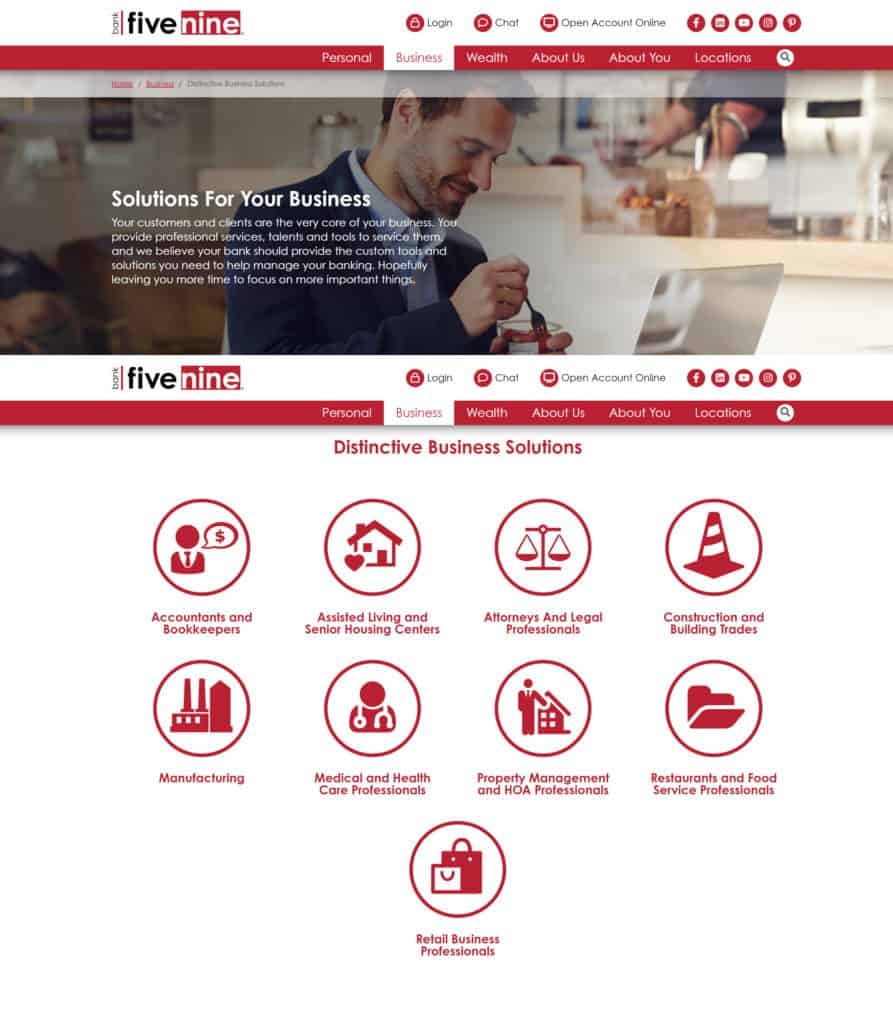 One of the top complaints small business owners have with banks is that they believe banks don't understand their business or industry. The Distinctive Business Solutions creative campaign attempts to connect with business professionals by asking a direct question about their banking. The digital connection leads the business professional to a landing page that cements the bank's knowledge of their business or profession.
The Bank Five Nine Distinctive Business Solutions product and service offerings are quite robust and rivals similar product suites available though super-regional and national banks.
The Distinctive Business Solutions program is being rolled out in phases by profession. The acquisition campaigns include geo-targeted, contextual and re-targeted digital media buys, highly targeted direct mail and a banker calling campaign to the most qualified prospects in each branch trading area.
If you would like to learn more about this program or any of the Leap Strategic Marketing's financial services marketing programs, contact Laura Bonesteel give us a call @ 262-436-4080.